IN THIS ANALYSIS, DISCOVER…
Why our solutions
hold benefits particularly
for medium-scale industry.
How new markets & target groups
can be penetrated by
using data as a product.
Why we act as a motor
for new business models
and services.
BENEFITS OF OUR SOLUTIONS
A Driver for New Business Models and Services!
The buzzwords machine-to-machine, Internet of Things (IoT) and Industry 4.0 are continually gaining in importance. To be able to keep offering high-quality products and services in future, medium-size enterprises are realizing how important it is for them to exploit the advantages of intelligent machine-to-machine solutions. Nevertheless, there is currently a glaring discrepancy between impressive projections on the one hand and rather modest success stories by medium-size enterprises on the other. Among other aspects, this is due to the fact that machine-to-machine is currently being marketed largely on the strength of its technological benefits.
The actual, on-the-ground benefits of our-solutions for decision-makers are often not given the attention they deserve.
Why invest in Our-Solutions?
The analysis demonstrates the potentials of machine-to-machine and, for the first time, shows decision-makers the versatility of these benefits!
Read on to learn that…
a new business model and/or a new paid service was created in 75% of our projects,
18% of projects already generate data for use as an independent product,
the Benefits Radar assists enterprises from all industry sectors in planning and evaluating our projects,
only 8% of projects use machine-to-machine information for requirements management addressed at new product generations.
Order our complete Benefits Analysis now
A Glance at The Analysis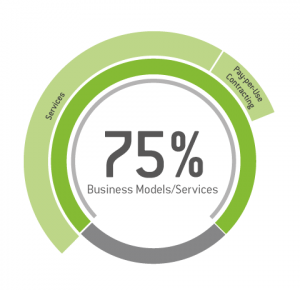 Key Results
Concepts & exceet Secure Solutions GmbH.
Our Benefits Radar supports enterprises from all industry sectors in planning and evaluating our projects.
60 PROJECTS – 9 SECTORS.
60  projects successfully implemented by medium-size enterprises from the German-speaking part of Europe (the D-A-CH region), from the transport, agriculture, industry, commerce, health, building management, utilities, waste disposal, services and construction sectors.
A DRIVER FOR NEW BUSINESS MODELS AND SERVICES.
75% of the reviewed projects generated a sustainable new business model and/or a new paid service.
MARKETS THANKS TO THE USE OF DATA AS A PRODUCT
Almost one-fifth of analyzed projects already markets data generated by us as an independent product.
The Initiators
Our Concepts & Secure Solutions
We provide consulting on all aspects of machine-to-machine communication. The company views its activities holistically under the aspect to the networking of products and things, focusing on the actual benefits that can be gained rather than purely on technical realization.
Secure Solutions
As a solutions specialist, we advise enterprises on project implementation, delivers sub-components, and where desired assumes comprehensive project responsibility. From benefits analysis to hardware manufacturing to operation, we create the solutions that measurably add value and define new competitive advantages.
Have you already implemented your project successfully?
Then become part of our Benefits Analysis and submit your project!